Retroburn is an Xbox Live Game studio, building mainly XNA games, and due to Windows Phone 7 sharing the same programming language are able to develop for both markets simultaneously.
IndieDB reports the company showing off a collection of upcoming games, some of which will be coming to Windows Phone 7. Screenshots from 2 are shown below.
The first, currently unnamed, is a racing game which allows one to build their own racetracks using a straight-forward track editor allowing one to create the layout, add checkpoints and then set your laptimes yourself by racing on your track. The tracks can then be shared on Xbox Live with other players who can also set their lap times.  Retroburn hopes a community will develop around the user-generated tracks. The game will be released on XBLIG and Retroburn are also creating a WP7 version to be released at a later date.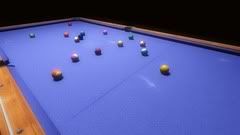 The next, Ultra Pool, is a classic arcade style Pool/Billiards game. The game features multiple game modes including 8 Ball, 9 Ball and Rotation. The game contains single player modes but is really intended to be played with other players and has a variety of multiplayer game modes. The game is to be released on XBLIG and a WP7 version is currently being play-tested to determine the best control system for the touch screen interface.
See the full collection at IndieDB here.
Do you think Microsoft is smart by adding Xbox Live support to Windows Phone 7? Let us know your thoughts
~IGXPRO JC